How do I compare Medicare Part D plans? Which prescription drug plan is best for me? Am I required to buy a drug plan? How often can I change my Medicare Part D? How much does Part D cost? Where do I find prescription drug plans? How much will my medications cost?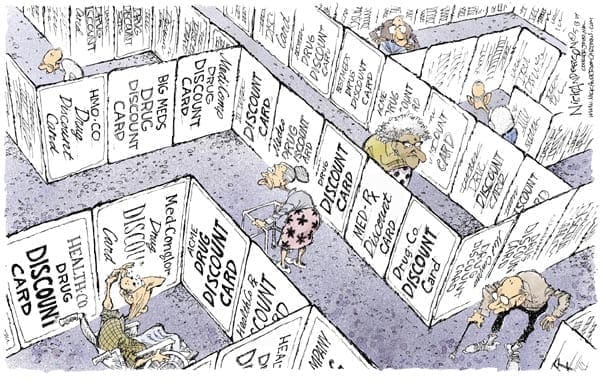 Medicare Part D
Medicare offers prescription drug coverage (Part D) to everyone with Medicare. You must first enroll in Medicare Part A or Part B before you can purchase a drug plan. Medicare Part D coverage is offered by insurance carriers. Each plan can vary in cost and drugs covered.
Should I buy a drug plan?
For starters, you are not REQUIRED to buy Medicare Part D, but you probably should . . . even if you are not currently on any medication.
If you fail to buy Medicare Part D when first eligible you will be charged a TAX by the U.S. Treassury and this tax is payable for life. Termed a late enrollment penalty (LEP) it is a tax surcharge equal to 1% per month for every month you couild have enrolled in a PDP (prescription drug plan) but failed to do so.
This tax is IN ADDITION TO the premium you pay to the insurance carrier offering the drug plan.
Which Medicare Part D plan is best for me?
Medigap policies do not include a prescription drug benefit. If you want prescription drug coverage you may want to talk to Medicare about prescription drug plans or visit Medicare Drug Formulary Plan Finder
Many seniors will not need a prescription drug plan. Or they may want to order some of their medication outside of their Medicare Part D plan to save money. Many times it is less expensive to pay for your medication out of pocket, or use a mail order pharmacy. There are also many programs available to provide medications for little or no charge.
Free Report
Georgia Medicare Plans would like to provide you with a FREE REPORT, Choosing the Right Medicare Part D plan. Here are just a few of the tips you will learn from our report.
How to use the Medicare Plan Finder

Choosing the best plan for your needs and budget

Should you use mail order or retail?

What are the advantages and disadvantages of ordering by mail?

Which Canadian pharmacy's are best?

Should I run all drugs through my drug plan?

How can I maximize the value of my Medicare Part D plan?
You have Medicare questions? We have answers.
#MedicarePartD #MedicareDrugPlan #PDP #DonutHole #ExtraHelp