Prescription Drug Plans (PDP's) are designed to supplement Medicare parts A&B and cover a portion of your prescription drug needs. Many seniors will not need a  drug plan, but they should buy one to avoid late penalties.
Do I need a prescription drug plan?
Your BEST RESOURCE for advice on which Part D plan you need, or if you even need one, could be your local pharmacy. Rather than relying on an anonymous government worker who knows nothing about you or your health, your local pharmacist is in a position to help you make the right choice.
But using your druggist has drawbacks. They will only tell you about the plans THEY accept. You could end up paying more for your medications than you should.
Some agents will try to sell you a prescription drug plan that fits their needs, not yours. More often than not agents are only approved to recommend one or two drug plans and they will usually steer you toward the one that pays them the highest commission.
For this reason as much as any, you should look for an agent that will compare ALL plans, not just a few.
Medigap Plans Don't Include Drugs
Medigap policies do not include a prescription drug benefit. If you want drug coverage you may want to talk to Medicare about prescription drug plans or visit their DRUG FORMULARY PLAN FINDER.
Many seniors will not need a prescription drug plan. Many times it is less expensive to pay for your medication out of pocket, or use mail order firms like Blue Sky Drugs. There are also many programs available to provide medications for little or no charge. 
Check out resources such as Needy Meds and Rx Hope in our PRESCRIPTION DRUG RESOURCE section. Also look at discount cards like GoodRx.
Medicare doesn't cover everything. Far from it. Each part of Medicare has deductibles, copays and coinsurance. If you rely solely on Medicare, your out of pocket costs can be substantial. Medicare supplemental plans, often called Medigap, pay for items approved by Medicare but not paid for by Medicare.
Affordable Medigap Plans in Georgia
Just looking for a Medigap quote? Click here. If you want us to help you find the most affordable plans from all of the low priced Medicare supplement plans, give us a call or email. We have rates from all the top carriers.
Medicare Supplement Plans.
Medicare supplement plans pay many of the doctor and hospital bills that are not covered by Medicare. This graph compares Med supp plans that are currently available.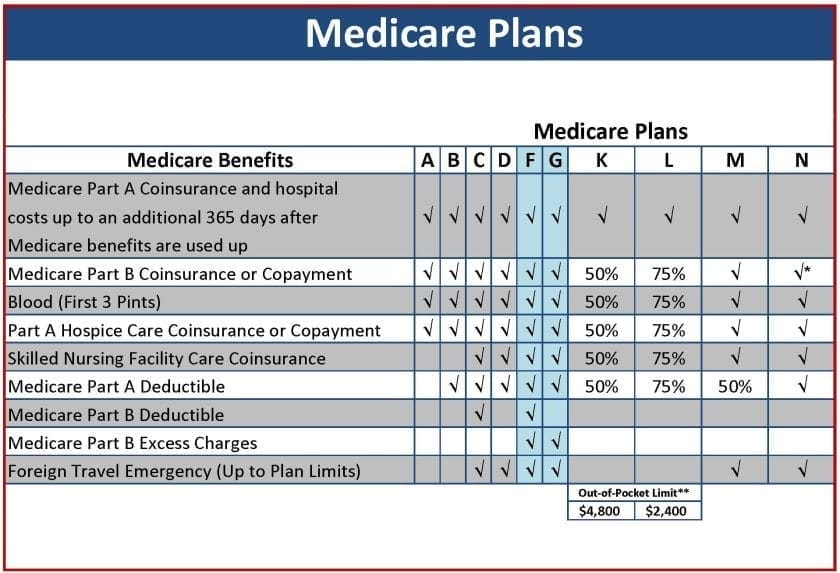 When is the best time to buy a Medigap policy?
The best time to buy a Medicare supplement plan is during your open enrollment period. Your open enrollment period starts on the first day of the month in which you turn 65 AND are enrolled in Medicare parts A and B. You should enroll in a prescription drug plan at this time as well.
During your open enrollment period an insurance company cannot refuse to offer you any Medigap plan it sells.
They also cannot make you wait for coverage to start or charge you more for your Medigap plan due to existing health issues.
Even though the insurance company cannot make you wait for coverage to begin they may be able to legally refuse to cover any pre-existing conditions for up to 6 months.
What is a pre-existing condition and how can I gain coverage for pre-existing conditions.
A pre-existing condition is any medical condition that existed before your Medigap benefits start and was treated or diagnosed during the 6 months prior to the effective date of your coverage.
While the Medigap policy may refuse to cover pre-existing conditions, Medicare cannot. Medicare will cover your pre-existing medical condition even if the Medigap plan does not.
Can the pre-existing condition clause in a Medigap policy be waived?
Yes. If you have prior creditable coverage during the 6 months prior to the time when your Medicare supplement benefits begin, and have not had a break in coverage of more than 63 days, your Medigap plan should cover your pre-existing condition.
The 2018 Guide to Health Insurance for People with Medicare is here.