How do you find senior dental insurance in Georgia? Are you turning 65 and losing your dental insurance? Do you have bleeding gums or persistent bad breath? Good overall health begins with regular dental check ups and cleaning.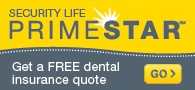 Dentists can often detect illness early on allowing for treatment before your condition worsens. These common health issues can be found during a routine oral exam.
Diabetes
Leukemia
Oral cancer
Pancreatic cancer
Heart disease
Kidney disease
Georgia Medicare plans has affordable senior dental insurance plans from Security Life.
Pick the plan you want with the coverage you need at a price that is affordable.
Use any dentist
Save more when you use one of more than 200,000 participating dentists in the MaxCare network
Major services including crowns and dentures
Pick plans with or without waiting periods
Good oral hygiene begins at home
Brush after every meal when possible
Ask your dentist to recommend an electric toothbrush
Night time brushing is most important
Floss 2 – 3 times daily
Floss, brush then rinse with antiseptic mouthwash at night
Eat a healthy diet
Avoid tobacco
Tea, coffee and red wine will stain your teeth
Click to shop and compare senior dental insurance plans.