A bold, spicy Gingerbread Cake is  the perfect Christmas dessert to compliment your Herb Crusted Beef Tenderloin.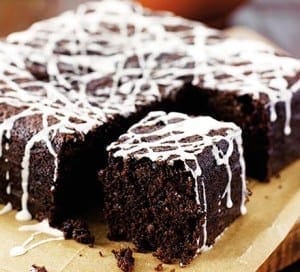 Starting with a Duncan Hines Spice Cake mix, you can turn an average dessert into a memorable one. Molasses and dark beer give your cake body and flavor that rolls around in your mouth and teases your senses.

The original Gingerbread Cake recipe called for making the cake from scratch. Nothing beats a scratch cake but with some special touches you can fool almost anyone into believing your grandmother is hiding in your kitchen.
Christmas Gingerbread Cake Ingredients
Duncan Hines Spice Cake Mix
2 tablespoons ground ginger
2 teaspoons ground cinnamon
1 teaspoon ground allspice
1/4 teaspoon pepper
1 tablespoon FRESH grated ginger
1/2 cup brown sugar
3 eggs
10 tablespoons unsalted butter (softened)
1 cup dark beer*
2/3 cup molasses
Glaze
2 cups confectioner's sugar
3 tablespoons ginger ale
1 teaspoon ground ginger
*The original recipe called for Guinness stout, but I prefer Yuengling Black and Tan.
Using butter instead of cooking oil delivers more flavor in your Gingerbread Cake. Increasing the fat content from 1/3 cup  to 2/3 cup is a common trick cooks use in box cake mixes to give it that bake from scratch taste.
If you want a fluffier cake use 4 eggs instead of 3.
Worried about calories? Did you miss the fact this is a cake recipe? Get over it. Indulge, just don't overdo it.
Preparation
Preheat your oven to 325. You want to use the middle rack for baking, so adjust the rack(s) if needed before preheating. Baking at 325 produces a level cake vs. a hotter oven that tends to puff up in the middle.
Prepare (grease and flour) an 8×8 square pan or round pan.
Combine the dry spices (ground ginger, cinnamon, allspice, pepper, grated ginger)  and set aside. Using FRESH grated ginger in addition to ground ginger beefs up the flavor.
Whisk the eggs with sugar. Add molasses and whisk to blend.
I always use a balloon whisk instead of an egg beater or hand mixer. This gives you more control without over-beating and the wrist action burns more calories allowing you to have a guilt free larger piece of cake.
Whisking is much more humane than beating.
Combine and Bake
Open the cake mix box and pour the dry mix into a stand mixer. Using the paddles, turn the mixer on for 20 seconds to break up any clumps that may be present.
Add the spices and continue to mix on low speed. Slowly add the dark beer. Once incorporated add the egg and molasses mixture. Add the softened butter, 1 tablespoon at a time. If needed, stop the mixer and use a spatula to scrape the sides. Don't overmix.
You will have some beer left over. Don't be shy about drinking the leftover.
Pour the batter into the prepared cake pan. Tap the pan 3 – 4 times to remove any air bubbles. Put the pan on the middle rack in a preheated oven.
Bake for 20 minutes. Open the oven door and gently rotate the pan 180 degrees to assure even cooking. Close the oven door and bake for another 20 minutes. Open the oven door and test doneness with a toothpick. If needed, cook for another 5 – 10 minutes or as long as needed until the toothpick comes out clean.
Cool the cake on a wire rack set inside a rimmed baking sheet for 20 minutes.
Prepare the glaze while the cake is cooling.
When the cake is cooled, drizzle the glaze. Let the Gingerbread Cake with glaze stand for 15 minutes then serve.