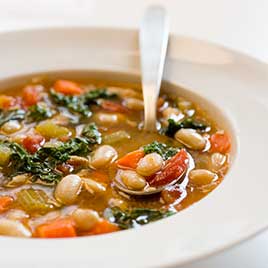 You can avoid tough, exploded beans in your Tuscan bean soup recipe, you should soak the beans overnight in salted water, which softened the skins. We experimented with cooking times and temperatures, discovering that gently cooking the beans in a 250-degree oven produced perfectly cooked beans that stayed intact. To complete your Tuscan bean soup recipe, add tomatoes toward the end of cooking, since their acid kept the beans from becoming too soft.
(This Tuscan bean soup recipe is from Cooks Illustrated and America's Test Kitchen. Georgia Medicare Plans is pleased to provide recipe's and money saving tips as a value added service for our clients and visitors.)
Tuscan Bean Soup Ingredients
table salt
1 lb dried cannellini beans, rinsed and picked over ( about 2 cups)
1 tablespoon extra virgin olive oil, plus extra for drizzling
6 ounces pancetta, cut into 1/4-inch pieces
1 large onions, chopped medium ( about 1 1/2 cups)
2 medium celery ribs, cut into 1/2-inch pieces ( about 3/4 cup)
2 medium carrots, peeled and cut into 1/2-inch pieces ( about 1 cup)
8 medium garlic cloves, peeled and crushed
4 cups low sodium chicken broth
3 cups water
2 bay leaves
1 lb kale (about 8 cups loosely packed) or 1 lb collard greens, stems trimmed and leaves chopped into 1-inch pieces ( about 8 cups loosely packed)
1 (14 1/2 ounce) cans diced tomatoes, drained and rinsed
1 sprig fresh rosemary
ground black pepper
8 slices country white bread, each 1 1/4 inches thick, broiled until golden brown on both sides and rubbed with garlic clove (optional)
Directions
Add 3 tbsp table salt to 4 qt water and stir until dissolved. Add the picked over, rinsed beans and leave them to soak overnight (8 to 24 hours) at room temperature.
In a large Dutch oven, heat olive oil over medium heat until it smokes. Add pancetta and cook 6-10 minutes, until the edges are crisp and browned. Add onion, celery and carrots. Cook until very soft and a little browned, about 15 minutes. Add garlic and cook until fragrant, about 1 minutes.
We hope you enjoy this Tuscan Bean Soup recipe. This makes a very hearty meal, high in fiber and protein, low in fat.