Medicare will spend almost $1 billion on scooters for Medicare beneficiaries but more than half those dollars are wasted on people who don't need a motorized chair.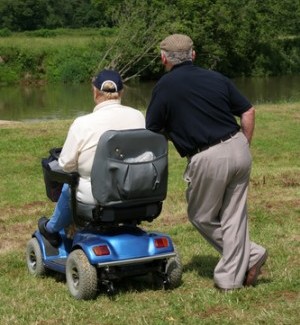 According to a report by the OIG (Office of Inspector General for Health and Human Services), many who got the scooters didn't need one over 60% of the time Medicare paid too much.
What about eliminating waste, fraud and abuse?
According to the report, 61% of power wheelchairs purchased by Medicare in 2007 were either unnecessary or lacked sufficient documentation to justify claim . . . yet Medicare approved them any way!
In the first half of 2007 Medicare approved and spent $189 million on power wheelchairs. Of that, $95 million were either not considered medically necessary or lacked sufficient documentation to justify the claim.
A whopping 78% of claims submitted by Medicare DME (durable medical equipment) providers had records that did not match physician records for medical necessity.
In other words, records submitted by DME suppliers indicated the motorized wheelchair was medically necessary but the doctor records did not agree with that assessment.
In most of those cases physician notes had less documentation than what was provided by the medical supplier but in some cases the doctor records contradicted those provided with the Medicare claim.
Medicare covers over 650 types of powered scooters. Medicare requires medical providers to use one of 42 different codes when submitting the claim.
Prior to January of 2011 Medicare beneficiaries were allowed to rent or buy a chair. Almost all chose to buy rather than rent the chair.
Power wheelchairs are referred to as MAE (Mobility Assistive Equipment).
To qualify for MAE (mobility assistive equipment), also known as a scooter, you must meet the following.
Have a health condition where you need help with activities of daily living like bathing, dressing, getting in or out of the bed or chair, moving around, or using the bathroom

Be able to safely operate and get on and off the wheelchair or scooter

Have good vision

Be mentally able to safely use a scooter, or have someone with you who can make sure the device is used correctly and safely
The equipment also must be useful within the physical layout of your home (it must not be too big for your home or blocked by things in its path).
If you qualify for a scooter, it will be paid for under Medicare Part B. Your Medicare supplement insurance plan will pay the contractual balance after Medicare approves the claim and pays their portion.
You can read more in this article about motorized wheelchairs written and published by Georgia Medicare Plans.
Compare Georgia Medicare supplement rates and plans and view instant Medigap quotes.