BCBSGA  Medicare supplement plans fill gaps in coverage where Medicare Part A and B leave you in the hole. Because Medicare only pays 48% of your medical bills you need a good BCBSGA Medigap plan to pick up where Medicare Part A and Part B leaves off.
Medicare Deductibles and Coinsurance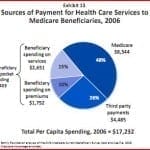 A good Medicare supplement plan from BCBSGA will help you pay for your Medicare deductibles, copay's and coinsurance. Without a supplement plan you will pay these items out of your own pocket and what senior can afford that?
BCBSGA Medicare supplement plans and BCBSGA Medigap plans pay for charges approved by Medicare but not covered by Part A or B.
You Can Trust Blue Cross
Because you have a Blue Cross of Georgia (BCBSGA) supplement plan you know that any doctor that accepts Medicare assignment will also take your plan. More doctors and hospitals in Georgia trust Blue Cross than any other carrier in the state. You can sleep well at night knowing you have the best Medicare supplement plan in the state.
Federally Standardized Medicare Plans
It is relatively simple to compare BCBSGA supplement plans with those offered by other carriers. Most carriers offer the 11 standardized plans Medicare supplement plans. Some carriers only offer a few of the plans but you can always find the popular Medicare supplement plan F in every carriers portfolio, including BCBSGA.
Which Supplement Plans Does Blue Cross Offer?
Currently Blue Cross Georgia offers Medicare plans including  A, F, High F, G and N. BCBSGA Medicare supplement plan F is the most popular.
Why Should You Buy a Blue Cross Medicare Supplement Plan F?
With BCBSGA supplement plan F you have the following:
Competitive pricing at many ages
No additional charge for tobacco use
Ability to use any Medicare approved doctor
Specialist referrals are not necessary
No additional out of pocket costs under Medicare Part B when you use a Medicare approved doctor
No claim forms to complete or file
How Do I Apply for a Blue Cross Medicare supplement plan?
You can apply direct with BCBSGA or use the services of an agent (such as Georgia Medicare Plans) that represents many carriers including Blue Cross. Independent agents such as myself have access to all the major Medigap carriers in Georgia, including BCBSGA. We have the same rates and plans that you get when you apply direct.
My clients always have access to me any day of the year. You don't have to wait until the carrier is willing to take calls during their "bankers hours" and I promise you will never hear "Press 1 for English" when you call me.
Georgia Medicare Plans has affordable Medicare supplement plans in Georgia from BCBSGA and other carriers to fit almost every need and budget.