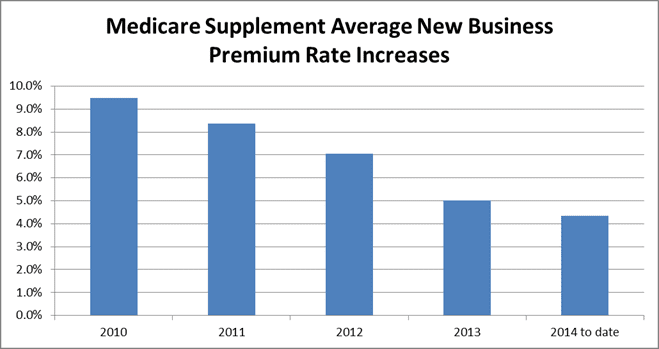 Georgia Medicare Supplement rates increase less than 10%, but not by much. Most Medigap plans have limited premium increases to less than 10% for the last few years. Two of our preferred carriers raised rates by 4% (Equitable) and 3% (New Era). BCBSGA increased some rates in January while lowering the other rates. Continental Life (Aetna subsidiary) is withdrawing from the Georgia Medicare supplement market and simultaneously increasing rates for new and existing policyholders by up to 9.5%.
Double digit renewals have declined medicare supplement rate increases since 2010. Rate changes on new business have also declined to the 5% range. Prior to 2012 Medigap rate adjustments of 10% to 15% or more were common, especially for the "big name" carriers.
Is now the time to change and lock in low rates?
Georgia Medicare Supplement Rates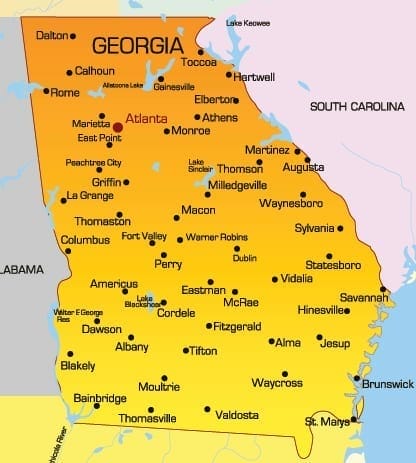 Females generally pay lower rates than males. If you live in a rural area your rates will typically be less than the same plan in Atlanta, Macon, Savannah or Augusta. Tobacco users pay more than those who do not use tobacco.
Medigap plan F still remains the most popular plan but it is also overpriced compared to plan G or N in most situations. Even if you find a "bargain" on Medicare supplement plan F the pricing advantage will most likely be lost on renewal.
There are a few exceptions.
We have carriers with very competitive rates for plan F in the following areas:
Zip 302 – Fayetteville, Jonesboro, Griffin, Hampton, Jackson, Jonesboro, Lagrange, McDonough, Morrow, Newnan, Peachtree City, Sharpsburg, Stockbridge, Thomaston, Conley
Zip 304 – Swainsboro, Claxton, Lyons, Metter, Millen, Pulaski, Statesboro, Vidalia
Zip 305 – Gainesville, Alto, Baldwin, Blairsville, Blue Ridge, Buford, Clayton, Commerce, Dahlonega, Dawsonville, Ellijay, Helen, Hiawassee, Hoschton, Martin, Mineral Bluff, Toccoa,
Zip 306 – Athens, Bethlehem, Bogart, Bowman, Hartwell, Hull, Monroe, Tignall,
Zip 307 – Calhoun, Chickamauga, Dalton, Flintstone, Resaca, Ringgold, Rising Fawn, Rossville, Ft Oglethorpe, Tennga,
Zip 310 – Bolingbroke, Bonaire, Vienna, Cordele, Cochran, Dublin, Eastman, Fort Valley, Kite, Knoxville, Lizella, Milledgeville, Monticello, Oglethorpe, Warner Robins
Zip 315 – Waycross, Baxley, Brunswick, Douglas , Folkston, Jesup, Kingsland, Nahunta,
Zip 316 – Valdosta, Adel, Boston,
Zip 317 – Albany, Americus, Camilla, Fitzgerald, Leesburg, Moultrie, Thomasville,
Zip 318 – Pine Mountain, Warm Springs, West Point
Zip 319 – Columbus
Zip 398 – Bainbridge, Blakely, Cairo,
If you live in the zips listed above and have a Medigap plan F we can probably save you a lot of money.
We have access to over 170 different Medicare supplement rates in Georgia. You will almost certainly save money when you allow us to help you shop the market.
Medicare Advantage surprise
Valerie bought a Medicare Advantage plan from a nice lady that came to her house and explained the benefits of having your medical and drug plan under one policy. Your new policy allows you to use a number of doctors and hospitals in their PPO network and you don't have to worry about finding a Medicare drug plan.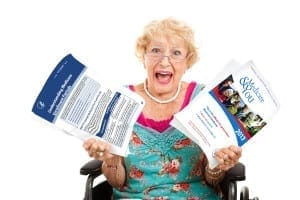 The glossy brochure with smiling faces was reassuring to Valerie but she was concerned about the copay's.
Don't worry, she was told. Your copay's are only $15 – $45 and most people don't go to the doctor that much.
(Apparently the agent failed to notice Valerie was sitting in a wheel chair).
But what about my hospital stay's? I was admitted twice last year.
No problem. You only owe for the first 7 days then nothing.
Valerie wanted to know if her medications were covered.
The agent looked over the list. "All but two are generic and will be covered. Your insulin is covered too but it isn't generic".
Valerie still felt a bit uneasy but enrolled any way.
The first time she filled her medications she was shocked to discover her medications (all 23 of them) were going to cost over $700 for a 30 day supply. Further, she found out that 3 of her med's were not on the plan formulary.
She had no choice but to hand over her credit card. She needed the medications to live.
Fortunately she was in the Medicare Advantage disenrollment window when we talked. I suggested replacing her Medicare Advantage plan with original Medicare, Medigap plan F and a separate drug plan.
Valerie's Advantage premium was $52 per month + copay's.
The Medigap was going to run $120 per month but no copay's. The drug plan added another $52 to her monthly premium but cut her drug costs by $500 per month!
Don't get trapped in a plan you cannot afford.
Medicare Advantage disenrollment period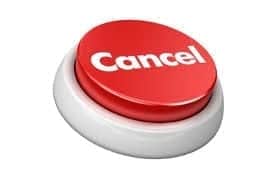 From now through February 14th you may elect to disenroll from your Medicare Advantage plan. If you are disappointed in your current Medicare Advantage plan for any reason you may disenroll from that plan and enroll in original Medicare. You may also qualify to enroll in a stand alone Medicare Part D drug plan.
In some situations you may qualify for a Medicare supplement plan without medical underwriting.
#MedicareAdvantageDisenrollmentPeriod #MedicareSupplementRateIncreases