Medicare AEP. (Almost) Everything you need to know about Medicare Annual Election Period in Georgia. A simple path to finding affordable coverage in the Medicare maze.
Medicare AEP – It's Not for Everyone
The biggest misconception about Medicare AEP is that it applies to everyone. Not so.
If you already have a Medicare Advantage plan, or you want to SWITCH to an Advantage plan (including PDP), Medicare AEP is for you.
Everyone else sits out.
During the Medicare AEP you may make your initial purchase of an Advantage plan or make a change in your coverage. If you don't like the Advantage plan you have now, you can switch. If you don't like original Medicare and a Medigap plan, you can purchase an Advantage plan.
Similar rules apply to PDP (prescription drug plans, otherwise known as Medicare Part D). During AEP you may switch PDP's or purchase a PDP for the first time.
Changing your Medigap Plan in Georgia
If you have a Medicare supplement plan you can switch to another plan with the same carrier or a new carrier at ANY TIME DURING THE YEAR. You do not have to wait until Medicare AEP because AEP does not apply to you.
Often the best time to compare Medigap rates is in December or right after the first of the year. Many Medigap carriers such as Blue Cross and AARP bump their rates for everyone in January. Unlike most carriers that offer a 12 month initial rate guarantee, BCBSGA and AARP use a common renewal date for rate increases.
Changing Medicare gap plans is relatively easy but you will be subject to medical underwriting. Most people can pass with flying colors. Bob Vineyard at Georgia Medicare Plans will pre-screen you in 3 minutes or less. If you qualify, he will show you the best Medigap rates for selected plans in your area.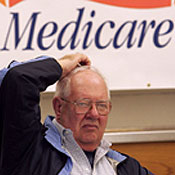 Medigap or Medicare Advantage?
The biggest challenge for most Georgia seniors is deciding between original Medicare and a supplement plan or picking one of the Advantage plans.
Medicare plus Medigap is a relatively simple task since all Medigap plans are identical.
Advantage plans are as varied and confusing as repariing a transmission on a car.
Medicare Plus Medigap
Almost every doctor and hospital in Georgia accept Medicare assignment. This means if you have Medicare and Medigap you can go almost anywhere in the state or country and not have to worry about being treated.
The same is true for your Medigap plan.
If your doctor or hospital accepts Medicare assignment they will also accept your Medigap plan. Your doctor does not know who your Medicare supplement carrier is nor do they care.
The claim process is simple.
Your doctor files the claim with Medicare. In most cases in two weeks or so Medicare adjudicates the claim and sends it on to your gap carrier for payment.
If Medicare approves your claim your Medigap carrier MUST pay the claim, no questions asked. Most gap claims are paid within a week after receipt from Medicare.
When your doctor accepts Medicare assignment there are no claim forms for you to complete. Everything is handled for you by your doctor.
Medicare Advantage
While most doctors and hospitals accept Medicare assignment only about half of the doctors participate in Medicare Advantage plans.
When you purchase or switch to an Advantage plan a new set of rules apply. Your regular doctor may not participate in the Advantage plan you pick so choose wisely. This is especially true with specialists. Your primary care doctor may accept your Advantage plan but your specialist may not.
Advantage plans are confusing. Insurance carriers use gimmicks to make it seem like their plan is better than the others. A common practice is the $0 premium plan.
How sexy is that?
You get health insurance and pay nothing for it.
The devil is in the details.
Advantage plans have a lot of moving parts. At any time you may be expected to pay a deductible or copay if you plan on using the services of a doctor or lab. That may not be bad as long as you are healthy but when your health takes a turn for the worse the copay's and deductibles add up. You can easily find yourself spending $3000 – $6000 or more out of pocket compared to less than $200 with most Medigap plans.
While you won't find Medigap plans with $0 premiums most of the Advantage plans are in the $60 – $80 range. For about the same amount of money you could have a Medigap plan with much less out of pocket.
Medicare AEP is your reminder to search for better value.
Bob Vineyard and Georgia Medicare Plans has the lowest Medigap rates in Georgia.