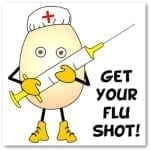 Flu season is approaching. Does your Medicare plan cover flu vaccines? Are shingles vaccinations covered by Medicare Part B or Part D? Is it safe to get a flu shot at a drug store such as CVS or Walgreens? Does the pharmacist administer the shot or is it done by a trained medical professional? Can I use a walk in clinic?
Find free and low cost places to get your vaccinations. Which as better coverage for vaccines, Medicare Advantage or original Medicare and a supplement plan? Where do I find the best Medigap plan for my money?
Shop and compare Medicare supplement plans. Instant online quotes. Over 170 different plans in Georgia.
Do I need a vaccination?
According to the CDC, approximately 50,000 people die each year from illness that could be prevented with an immunization. Over 200,000 people are hospitalized each year due to influenza (flu) and 36,000 will die.
More than half of flu related deaths occur with people age 65 and older.
Medicare Part B and flu vaccines
Does Medicare Part B cover flu vaccines? Does it matter if I get my shot at my doctor, a walk in clinic or a pharmacy? How much will I have to pay for my shot?
Since 1993 Medicare has covered annual flu immunizations. Original Medicare will cover the cost of the medication as well as administration by a recognized medical provider.
Flu vaccines are not subject to the Medicare Part B deductible. There is no copay or coinsurance.
Medicare and shingles vaccines
Shingles vaccines are considered a covered expense under your Medicare Part D plan. All Medicare drug plans are required to cover non-experimental immunization drugs that are not included under Medicare Part B. Most Part D and Advantage plans require you to obtain a prescription from your doctor and fill the prescription at your pharmacy. You then take the medication to your doctor for administration of the vaccine.
There should be no charge for giving you the shot.
Alternatively, you can use an on-site walk in medical clinic found inside some pharmacies and wholesale clubs.
If you are not covered by Medicare and need access to low cost or free medical clinics, follow this link to Needy Meds.
Flu vaccines may hold the key to preventing heart disease
Flu vaccines are known to have a protective effect against heart disease, reducing the risk of a heart attack. For the first time, this research, published in Vaccine, reveals the molecular mechanism that underpins this phenomenon. The scientists behind the study say it could be harnessed to prevent heart disease directly. – See more at: http://www.elsevier.com/about/press-releases/research-and-journals/flu-vaccine-may-hold-key-to-preventing-heart-disease#sthash.AwAMFKMZ.dpuf
Medicare Part B or Part D
Some medical services are covered by Part B while others are included in your prescription drug plan. Your out of pocket costs can vary widely depending on which Medicare provision covers the service and the type of plan you have.
You can find a good summary of Part D vs Part B drug coverage at Medicare Interactive.
Medicare is a relatively simple system designed by Washington bureaucrats which means it will be, by design, confusing. We talk to retirees every day and give them a free, no obligation review of Medicare and how each part works. We also take the time to explain things about Advantage plans and Medigap plans that you probably never knew.
Our job is to educate you about your options so you can make the right choice in coverage.
Some past decisions are irreparable and you have to live with them. But most of the time we can show you alternatives to your current plan that will save you $400 to over $1,000 per year by making a simple change.
How much can you save? Click and find out.