What happens when your Medicare plan doesn't pay a claim? Do you still owe the bill? Can your doctor or other medical provider make you pay a claim denied by Medicare? Can your doctor balance bill you for the difference in the Medicare allowance and what they would like to charge?
What does it mean when a provider does not accept assignment? Can a provider opt out of Medicare entirely?
What are my options?
Choose original Medicare and the right Medicare supplement plan
Your Medicare plan doesn't pay
Most of the time Medicare pays for treatment that is deemed to be medically necessary. But sometimes they don't pay. What happens then?
Before his three-hour neck surgery for herniated disks in December, Peter Drier, 37, signed a pile of consent forms. A bank technology manager who had researched his insurance coverage, Mr. Drier was prepared when the bills started arriving: $56,000 from Lenox Hill Hospital in Manhattan, $4,300 from the anesthesiologist and even $133,000 from his orthopedist, who he knew would accept a fraction of that fee.

He was blindsided, though, by a bill of about $117,000 from an "assistant surgeon," a Queens-based neurosurgeon whom Mr. Drier did not recall meeting.
What is an assistant surgeon and who is this masked man?
More importantly, why did Mr. Drier's health insurance plan balk at the $117,000 fee from the assistant?
Anthem, the carrier in Mr. Drier's case paid the primary surgeon $6,200 (out of $133,000 originally billed) and the doctor accepted that as "paid in full".
Dr. Mu, the assistant surgeon, refused to negotiate for a lower amount.
Eventually Anthem relented and paid $116,862 and Dr. Mu accepted the payment.
This is out of the ordinary and not to be expected routinely.
While Mr. Drier was covered by a traditional health insurance plan (similar to Medicare Advantage) he was not a Medicare beneficiary. Original Medicare does not have any networks and in most cases the doctor would not be allowed to bill any amount over and above the Medicare allowance.
Situations where original Medicare doesn't pay for medically necessary treatment are rare.
How does Medicare work?
Original Medicare is quite simple. About 96% of medical providers participate in Medicare and accept the Medicare allowance as paid in full.
Notice the above applies to original Medicare only.
Medicare Advantage plan have much smaller networks. In some situations the patient is subject to balance billing by a non-par provider and in other cases the patient is liable for the FULL AMOUNT BILLED.
Patient protection with Medicare
When you are covered by original Medicare you are protected from financial surprises by the law.
The participating provider program was enacted in 1984 for two purposes: (1) to assist Medicare patients with identifying and choosing providers who charge Medicare-approved rates; and (2) to encourage providers to accept these rates. Given this program's strong provider incentives, the number of participating providers grew rapidly across all states and today, the vast majority (96%) of eligible physicians and practitioners are "participating providers"—agreeing to charge Medicare's standard fees when they see beneficiaries.
For the last 30 years Medicare has "had your back" when it comes to shielding you from medical bankruptcy. The ability to choose any provider plus the guaranteed acceptance (by most providers) of Medicare's fee schedule is a primary reason why so many retirees on a fixed income choose original Medicare and a Medigap plan over private company Advantage plans.
Paying your share
When your Medicare plan doesn't pay because you used a non-participating provider, or one that has opted out of Medicare, what do you owe?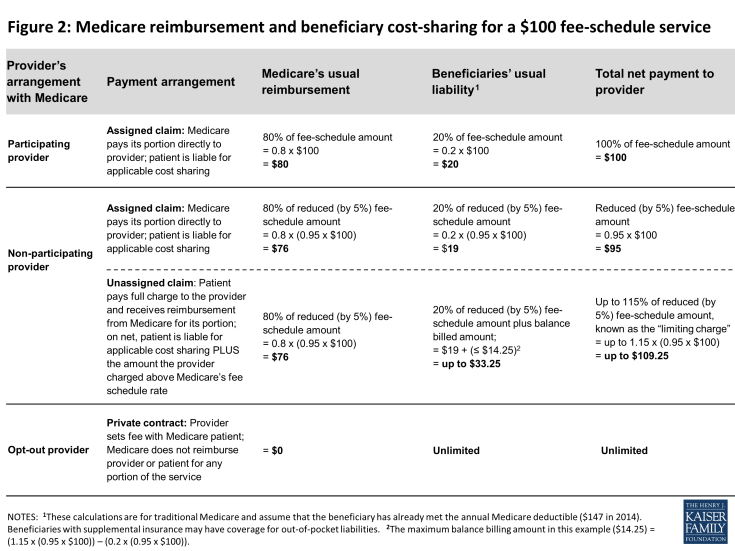 Select Medigap plans will pay any excess billed charges when you use a non-par provider.
Medigap plans are supplemental to original Medicare. When you use a Medicare par or non-par provider there is never any problem in using your Medicare supplement plan. All par and non-par providers will accept ANY Medigap plan, regardless of the issuing carrier.
With more than 170 different Medigap plans in Georgia, how do you choose the right one?
Picking the right plan is easy with our help. We only recommend Medicare supplement plans from carriers that have 5 or more years direct experience in underwriting and issuing Medigap coverage.
With original Medicare you will rarely ask yourself "What if my Medicare plan doesn't pay?"
#Medicare #Medigap