How much does Medicare supplement insurance cost in Georgia? Should I pick a Medigap plan from AARP, Mutual of Omaha or Blue Cross or are there better choices? How do I find a good Medigap plan? Do the rates go up every year? How much? Is plan F the best plan? Why do I have to give my name and contact information just to get a Medigap quote?
This is just a sample of questions I get every day.
Most people say they just want a quote but the truth is they really want and need information to make a decision. This is especially true if you are turning 65 but we find many people who have had a Medicare supplement plan for years really don't understand their plan.
If they had it to do over again they would do something completely different.
However, if you only want a rate click the button below.
Medicare supplement cost information
Medicare supplement rates are based on your age, gender, zip and tobacco usage. When you are initially turning 65 your current health is not an issue. Medigap carriers are not allowed to ask about health risk other than tobacco use.
Once you are past your initial enrollment period (IEP) the carriers are allowed to ask for information about your current and past health issues. Most will also review your prescription drug history for the last 4 years and many will also ask your height and weight.
If you don't meet their criteria you can be declined coverage. This makes choosing the RIGHT plan for your needs and budget even more crucial when you are in your IEP.
Which Medigap carrier is best?
They are all good. Every carrier will pay your claims and do so on a timely basis. Most pay claims within 10 days of receipt. If your provider accepts Medicare assignment they are paid direct and you never have to fill out any paper work or file a claim.
All Medicare supplement insurance plans with the same letter are identical in every way except cost. It doesn't matter if you buy a United Healthcare plan from AARP or one from BCBSGA or Mutual of Omaha.
You can buy direct from the carrier, from an online agency, through an association or use an agent.
The rates and plans are exactly the same.
The difference is this.
When you buy direct or through a senior association you will only get information about their particular plan. If you want comparisons you have to do them yourself by going online or talking to more agents.
How much fun is that?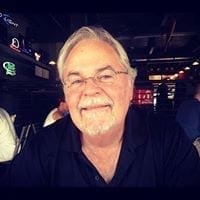 Or you can talk with Bob Vineyard at Georgia Medicare Plans. That's me on the left.
I am a baby boomer. My Medicare journey began about 4 years ago in preparation for going on Medicare in September, 2015. My (almost) 40 years in the health insurance business wasn't enough to prepare me for the Medicare market.
Medicare supplement insurance is not anything like traditional health insurance.
When you call me you will get me or my voice mail. You won't hear "Press 1 for English" and you won't have to push the keypad multiple times just to leave a message. When I call back, usually the same day, you won't get a sales pitch.
Others talk, I listen.
You want answers, not a high pressure pitch.
I understand and I respect that.
How do I find the best Medicare supplement plan?
Very simple. Just ask.
There are over 170 different plans in Georgia. Finding the best one by yourself is impossible. If it was that easy you wouldn't be reading this now.
The short answer to your questions are:
There are better values than plan F
You can usually save money when you buy from someone OTHER THAN the major name carriers
Yes, the rates go up every year. Some go up more than others.
If you buy the right plan from the start you will never need to change
That's where I come in. Helping you find the right plan for your needs and budget.
Why do I have to give my personal information?
You don't.
I have people on my site every day that refuse to give their real name or contact information.
They still get an instant Medigap quote.
But here's what they don't get.
They don't know which carriers are new, which ones have a steady history
You won't know which ones are just about to increase rates or by how much
You won't learn which carriers will raise your rates as you get older
You won't know which plans have the best value
You won't know why plan F is almost always a bad choice
I have spent 40 years listening to questions people have about their health insurance options and I take the time with each one of them to answer every question.
There are no dumb questions. The decisions you make in picking a plan will need to serve you for a very long time in most cases.
We save our clients an average of $400 per year on plan F from some of the big name carriers. You can save even more by choosing plan G or N.
Major savings of $1,000 per year and more are possible with the right drug plan.
Your information is never sold. Complete the form below and get an instant quote. I want a chance to earn your business. Give me 10 minutes on the phone and then decide if my advice an information is valuable or not.
[iframe src="http://gamedigapquotes.com/"]
#GAMedigapQuotes #MedicareSupplementInsuranceCost #MedigapRates