Medicare open enrollment begins October 15 and ends at midnight December 7. There are at least 5 things you must know to avoid financial disaster. You can be turning 65 and enrolling for the first time or have seen this movie before. Some people make the same mistakes over and over again without realizing the problem.
The next open enrollment is October 15, 2018.
If you think you already have all the answers, don't read this post. If you believe Medicare open enrollment is for everyone you will probably learn something.
Did you know some parts of Georgia only have a few Medicare Advantage options but over 230 different Medicare supplement plans are available? Rather than "one-size-fits-all" you might be better suited to finding a plan that meets your needs and budget.
Post summary.
What you need before entering the open enrollment arena

Why you should never buy a drug plan from a stranger

Open enrollment isn't for everyone

You may be denied a Medigap plan

Why you don't want to auto-renew your drug plan or Advantage plan
Let the games begin!
Medicare Advantage – Oops I Made a Mistake
Medicare Open Enrollment Tips and Secrets
The first thing you need to know, Medicare open enrollment isn't for everyone. Medigap plans never participate in open enrollment. No matter how well your drug plan served you this year it can turn into a nightmare next year.
Be prepared!
Don't buy a drug plan from a stranger. Don't auto-renew anything.
Medigap plans are owned by you. A solid Medicare supplement plan will suit many well for years to come. Advantage plans are rented from year to year. The actual cost of the plan cannot be determined until you need it. By then it may be too late to change.
When in doubt, get advice. Even if you are confident, get advice. Don't be afraid to ask for directions, even when you don't think you are lost.
If You Don't Know Where You Are Going You Will Wind Up Somewhere Else
Before enrolling in Medicare at age 65 for the first time, or planning your next move during Medicare open enrollment, there are things you need to do first.
Make a list of all doctors including name, address, phone

List all area hospitals, especially the ones you have used

Make a list of all medications including dosage, refills, prescribing doctor and pharmacy

Be aware of the donut hole and look for ways to avoid that trap

Make use of generics and off plan purchases

Look for FDA approved generics and ask your doctor before making a change
If renewing, get your drug list ID and password date from your last drug plan finder
If renewing, study your ANOC for changes

Use Medicare.gov for reviewing Advantage and drug plan options

Avoid using Medicare.gov for drug plan comparisons prior to October 25

Medicare.gov and the GA DOI site is essentially useless when comparing Medicare supplement options

Most Medigap quote engines only list a handful of options and rarely have plans with the best value

Many quoting sites will sell your information to numerous agents; some don't provide instant quotes
Never put anything on auto-renew unless you like unpleasant surprises.
It's Like Deja Vu All Over Again
It may seem like it, but just because you have been through open enrollment before doesn't mean you got it right. In fact, most people get it wrong. Sometimes they eventually figure it out, sometimes not.
Putting your coverage on autopilot is one of the biggest mistakes people make.
Advantage plans change every year even if the premium doesn't. Doctors and hospitals leave the network. Copay's and deductibles change. Most of the plans have increased the maximum out of pocket allowed by Medicare.
When your health changes your out of pocket charges can exceed $500 per month PLUS MEDICATION. At that point it is probably too late to change to a Medigap plan.
Drug plans change more than anything. It doesn't matter if you have a stand alone Part D or a drug plan built into your Advantage plan. Your medication cost is almost guaranteed to increase over the current year.
Prescription drugs consume 25 – 30% of total annual health care costs. Your biggest savings can come from picking the right drug coverage.
Don't buy a drug plan from an agent. Most will only show you the plans that pay them a commission. Good for them. Bad for you.
Don't buy a drug plan from a carrier. They will only tell you what THEIR plan covers.
Don't rely on a drug finder report for next year that is calculated before the end of October. It is rarely correct. Always keep a copy of the report including your drug list ID and password date. You may have to challenge the carrier if the formulary changes or ask Medicare for an SEP to move to another drug plan mid-year.
When You Come To A Fork In The Road, Take It
Some people are better off with original Medicare and a Medigap plan. Rarely will anyone be financially safe with Medicare alone.
Others are just fine with an Advantage plan.
One is not inherently better than the other, but one is a better choice for your future needs.
Don't let anyone tell you one plan is better than the other. If they try to sell you something, walk away. You don't need them.
Shameless plug follows.
Bob Vineyard and Georgia Medicare Plans won't sell you anything, but he will help you to buy the plan that fits your needs and budget. No hard sell. We educate our clients, listen more than we talk, ask questions, offer advice and then let you decide.
People hate to be sold but they love to buy.
We don't sell anything.
We are shamelessly biased in favor of Medigap plans. That's what I bought. Ask most agents what they will buy when they are on Medicare. If they are honest most will say they will buy a Medigap plan.
If you want an Advantage plan, call Scott. I will give you his number and a recommendation. Just ask me.
We are happy to help you buy the plan that fits your needs and budget but only when you are ready. Sometimes we will even tell you to keep the plan you have.
I Knew I Was Going To Take The Wrong Train, So I Left Early
If you have a Medigap plan and want to change, you may be denied.
If you have an Advantage plan, and want to change to a Medigap plan, you may be denied.
Medigap does not have an open enrollment.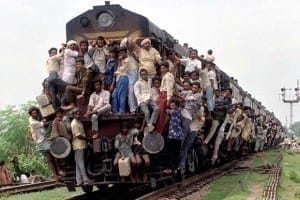 There are only a few ways to get a Medigap plan without medical underwriting. One is to sign up when you turn 65 and enroll in Medicare for the first time. For many, that will be their ONLY CHANCE to purchase a Medigap plan.
Another is to successfully pass medical underwriting.
In some situations you may have a guaranteed right to purchase a Medigap plan but you may not get the plan you want or can afford.
Medicare open enrollment is only for those with drug plans and Advantage plans. Everyone else that wants a Medicare supplement plan may have to settle for something less.
I talk to people every day that say they are healthy but will never qualify for a Medigap plan. I can tell you in 3 minutes or less if you can qualify.
Don't waste your time chasing something you can't get.
I Never Said Most Of The Things I Said
Some agents will tell you anything because they think that is what you want to hear. Your friends are great but don't buy what they have because what they have may not be right for them and it may not be right for you either.
"All my friends have AARP Plan F and it pays for everything".
Yes, it does. But all plan F's pay for everything and most will charge you a lot less than AARP.
"I have a Medicare plan and it doesn't cost me a dime".
Just because you don't pay a premium doesn't mean your coverage is free. Advantage plans are great until you use them then you may find you can't really afford them.
$0 premium is not the same as $o cost.
Which works better for you? $0 premium or $0 copay and $0 deductible?
We specialize in Medicare supplement plans. We have rates for over 170 different plans and will freely share information by phone or email. No one will come to your house. You don't come to see us. Most people like it like that.
If you really want an Advantage plan, we won't try and talk you out of it. That's not our job. We have an agent that handles those things for us. He is very good and you can take what he says to the bank.
You can get an instant online quote on our site. Your information is never sold. The quote engine only has about 30 plans. If you want to know all your options just ask. We have nothing to hide. We will even give you rates from plans we don't sell.
We want to make your life simple so you can get back to enjoying retirement and the grand kids.
No smoke.
No mirrors.
Just solid advice.
We want to earn your business. Is that too much to ask?
Medicare open enrollment isn't for everyone but we can make it a lot easier.

#MedicareOpenEnrollment #MedicareSupplement #MedicareAdvantage #GeorgiaMedicarePlans