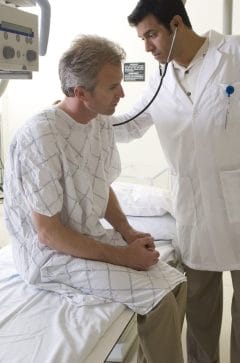 How do I find Medicare doctors in Georgia? Many doctors are opting out of Medicare, or refusing to accept new patients. Why is this happening and what can I do to find a GA doctor that accepts Medicare patients? Doc fix is part of the problem.
Many Georgia seniors are finding it increasingly difficult to find Medicare doctors willing to treat them.
While there is a lot of chatter about funding Medicare to keep it viable, many seniors are faced with a more immediate problem. This round-robin discussion about the difficulting in finding doctors willing to treat Medicare patients is of interest to many. Finding primary care Medicare doctors is a crisis.
Nancy Martin moved to Lubbock, TX and spent hours on the phone, trying to find Medicare doctors that were taking on new patients.
NANCY MARTIN, Texas: I said, I'm Nancy Martin. I have just recently moved to Austin. I am looking for a physician that will take a new Medicare patient. Sorry, we don't take any new Medicare people.

I felt frustration, disappointment, I would say despair, a lot of days, just get to the point where I thought, I'm never going to find a doctor in Austin. What do you think I will have to do? I don't know.

RAY SUAREZ: Martin has high blood pressure and type 2 diabetes.

NANCY MARTIN: If I had something bad, I just went to the emergency room.

RAY SUAREZ: After two years of searching, Martin finally found a primary care physician.
Two years!
Lubbock is a town of more than 230,000 yet it took Nancy two years to find doctors that take Medicare. Seniors in Georgia are faced with the same challenge.
LOU GOODMAN: And in 2000, we had about almost 80 percent of the doctors were taking new Medicare patients. We just completed a survey last year, and we found that less than 60 percent were taking them. Almost 20 percent fewer doctors are taking new Medicare patients. And that really troubled us.

RAY SUAREZ: Goodman says the primary reason doctors are not taking new Medicare patients or opting out altogether is because of something called the sustainable growth rate.

It's a mathematical formula established by Congress in 1997 to contain rising  Medicare costs. But, in practice, it would have cut government payments to physicians for treating Medicare patients every year since 2001. So, every year, Congress at the last minute passes the so-called doc fix, averting the cuts and giving doctors a small raise.

The annual doc fix and the threats of lower reimbursements in the future have left some doctors insecure and unwilling to take on more Medicare patients.
Doc fix in Congress' way of addressing a long term problem. Rather than fixing the problem THEY created in 1997 they go through a yearly ritual of delaying corrections to the formula leaving doctor and patient in the lurch.
Doctors have no idea how much they will be paid by Medicare to treat patients.
Medicare patients have no idea if their doctor will continue to see them.
And the problem is not just finding Medicare doctors.
RAY SUAREZ: Last year, the Austin Regional Clinic, or ARC, bit the bullet and stopped taking new Medicare patients.

ARC, one of the largest health care groups in Central Texas, serves more than 400,000 area residents. Dropping Medicare wasn't something the health system wanted to do, but CEO Dr. Norman Chenven says it was an economic necessity.

DR. NORMAN CHENVEN, Austin Regional Clinic: The issue was really one about survival.

It's really time and materials that it takes to provide care to someone. We can pretty much predict that if our Medicare population grows beyond a certain percentage that our profitability is going to go away.
Profits have become a dirty word, used by politicians to demonize private industry. But if a doctor or hospital loses money by treating Medicare patients, you cannot expect them to continue offering services.
About 10,000 seniors turn 65 every day and many of them will begin the journey to find Medicare doctors willing to treat them.
Footnote: Less than half the doctors in Georgia accept Medicare Advantage plans. Even when you find a doctor willing to accept Medicare Advantage patients, they may not take your particular MA plan.
You can improve your odds by opting for original Medicare and a Medicare supplement plan. Georgia Medicare plans helps seniors choose from the lowest cost Medigap plans in the state. With our help, you can find a Medicare supplement plan that meets your needs and budget.
When you pay more you don't get more, you simply paid too much.

#FindMedicareDoctors
#Age65EnrollInMedicare
#Age65SignUpForMedicare