Original Medicare offers excellent hospital admission coverage under Medicare Part A. But how is your hospital bill treated under Part B? Are you in or out?
Full Part A coverage for up to 60 days following a deductible of $1364 (2019) per hospital admission
Full Part A coverage for up to 100 days in a Skilled Nursing Facility (SNF)
Full Part A coverage for up to 100 days for home health care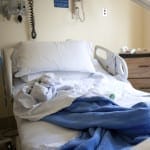 Each of the above are true but only if they follow hospital admission as an INPATIENT (Medicare Part A) for at least 3 consecutive days prior to your SNF stay or home health care.
But what if you were never admitted as an inpatient and your observation stay was covered by Medicare Part B?
What is my liability for out of pocket costs if my hospital admission was a Part B stay?
Hospital Admission – In or Out?
Consider the case of Caroline Giada.
On the morning of Sept. 23, 2014, Caroline Giada woke up in her home in coastal New Jersey. She rose from bed, walked over to the bathroom and fainted, hitting her back on the sink cabinet on the way down. When she came to, she couldn't move. So she called 911.

The 76-year-old was taken to the emergency room, where the attending nurses looked her over and booked her into a bed. Over the next six days, she was given every kind of test imaginable: X-rays, electrocardiogram, CT scan, ultrasound, MRI. Nurses came and went. So did doctors. Finally, a week later, the problem was uncovered: a fracture in the L5 segment of Giada's lower spine. They called in a specialist, but he said he couldn't operate until the following Thursday.

After her surgery and rehab, when she was ready to go home, Giada was hit with another surprise: a bill. Medicare had covered the surgery and the rehab, but not the nursing facility stay, and the facility told her she owed $2,360. "I couldn't understand it," says Giada. "They said, 'Well, Medicare isn't paying, because the hospital put you under observation instead of as an inpatient.'" – America Aljazeera
Had Caroline been admitted as a hospital inpatient, her nursing facility stay would have been covered in full. Instead she was faced with a significant outpatient bill.
If You Have Medicare, Ask!
Are you considered an inpatient or outpatient?
If you don't know, ASK!
Medicare does cover outpatient services subject to an annual deductible ($185 in 2019) and coinsurance (you pay 20%, Medicare pays 80%). Unlike traditional insurance that caps your out of pocket, you responsibility for Part B expenses have no cap.
You continue paying 20% until you are well, you run out of money, or you die.
Medicare supplement plan F will pay your Part A deductible ($1364 in 2016), your Part B deductible ($185 in 2016) as well as your 20% share. With original Medicare and Medigap plan F your out of pocket for approved Medicare Part B charges is $0.

Hospital Notification Changes
The Notice of Observation Treatment and Implication for Care Eligibility Act was signed into law in August, 2015 and will go into effect in August, 2016.
Medicare beneficiaries in the hospital for more than 24 hours must be informed in writing of their hospital admission status within 36 hours of when they begin receiving medical services as an outpatient. The written notice must clearly explain:
that the individual is not an inpatient;
the reasons for the person's observation status; and
the implications in terms of increased financial responsibility and lack of eligibility for coverage in a SNF after discharge.
The patient or their representative must sign the notice to acknowledge their understanding.
When was the last time you reviewed your Medicare supplement plan? Get a free instant Georgia Medigap quote. No obligation.
We will also send you a Medigap Transparency Report showing rates for all Medicare supplement carriers in your area. Most quote engines, including ours, only show a few plans. But there are more than 40 carriers offering Medigap plans in Georgia. See which ones have the best rates!

#GAMedigapRates #HospitalAdmission #MedicarePartB