Every year during the Medicare annual enrollment we have calls and visitors to Georgia Medicare Plans that are looking for ways to save money. Living on a fixed income is plenty enough reason to make sure you have the best value in your Medicare plan.
What are P.A.R.E. claims and why should you be concerned? Who are the hidden providers? What are Medicare excess charges?
Many retiree's are disillusioned with their Medicare Advantage plan and want to return to original Medicare during open enrollment. Some have seen their Medigap plan F premiums rise to the point they are no longer affordable and are considering a reduced benefit plan such as A, D, K, L, N or Hi F.
What is the best solution that fits your needs and budget? With more than 170 different plans to consider, how do you shop and compare to find the best plan for you?
Medicare annual enrollment
The Medicare annual election period begins October 15th and ends December 7th. During that time you can change your drug plan or Medicare Advantage plan. Many people will make that change whether they like it or not.
When their ANOC (annual notice of change) arrives they discover their PDP (prescription drug plan) will not be offered next year. Or their monthly premium is increasing. More often, the premium remains about the same but the cost sharing increases in the form of a deductible or higher copay's via formulary shift.
During Medicare annual enrollment many Advantage plans also come with surprises. Doctors that were in your network this year will not be in network next year. Your premium is increasing, deductibles and copay's are higher.
And then there are those out of pocket costs.
Most people only look at their Advantage plan in terms of their monthly outlay and fail to plan for the unexpected when they are faced with medical bills in the thousands of dollars. Take advantage of this annual enrollment time to review all aspects of your plan.
Medicare Advantage plans, unlike traditional Medicare, are required to limit out-of-pocket costs for services covered under Parts A and B ($3,400 is recommended; $6,700 is the maximum). Between 2013 and 2014, the share of Medicare Advantage enrollees in plans with limits above $5,000 almost doubled, from 24 percent in 2013 to 44 percent in 2014.
This "out of pocket creep" is a common tool of Advantage plans. You are lulled into a false sense of security with the low monthly premiums and fail to consider how much your plan REALLY costs.
Your out of pocket maximum is only for IN NETWORK APPROVED CLAIMS.
What is NOT included in your out of pocket cap?
unapproved claims by your doctor, lab, hospital, etc
prescription drug costs, including your donut hole
claims incurred with non-participating providers
Hidden providers
Non-participating, hidden providers have been around for years but are something rarely discussed.
Hidden providers most often crop up in P.A.R.E. claims. You will find literally hundreds of medical providers in any area that do not participate in ANY managed care plan, and even more so with Advantage plans.
What does P.A.R.E. stand for?
Pathology
Anesthesiology
Radiology
Emergency
Non-par claims, especially in these areas, are quite common. These are providers that opt out of all networks so they can bill you in excess of the Medicare allowed charges. It is not unusual for these providers bills to exceed the Medicare allowance by hundreds or thousands of dollars!
And those claims are EXCLUDED from your Advantage plans out of pocket cap.
Original Medicare
When Medicare was created in 1965 beneficiaries were free to use any doctor, lab or hospital, anywhere in the United States.
There were no networks. No participating or non-participating providers. No penalties for using the "wrong" doctor.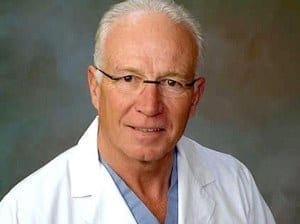 You had complete freedom to pick a doctor that is right for your needs rather than choosing from a list of approved providers. Medicare annual enrollment did not exist.
You went on Medicare at age 65 and kept it for life. Annual enrollment was a foreign term and life was simple.
Original Medicare had almost no moving parts and the only real financial exposure was in the form of deductibles and coinsurance. Medicare then, and now, have NO CAPS on your annual out of pocket.
Your Medicare Part A hospital deductible is currently $1216 ……….. per benefit period (per admission). That may not be so bad unless you are like a former client.
Roy had the misfortune of being admitted to the hospital 5 times in the year he died.
That's a lot of exposure.
Roy also had numerous doctor visits, MRI's, lab work and chemotherapy. Those fall under Medicare Part B where you pay the annual deductible (currently $147) and then the remaining 20% of what Medicare does NOT pay.
Roy also had a Medicare supplement plan that paid 100% of approved Medicare claims.
Electronic imaging, the "R" in P.A.R.E. claims, can easily run over $1000 per event.
Modern chemotherapy is normally performed in an outpatient (Part B) setting. Some chemo drips run $5,000 or more.
How does a retiree, living on a fixed income, protect themselves from financial ruin?
With a Medigap plan. Shop and compare plans.
Medicare Supplement Plans
Shortly after Medicare was "invented" insurance carriers realized the financial risk involved and presented a way for seniors to protect their life savings by purchasing a policy called "gap" insurance. The common name is Medigap, although that term is interchanged with Medicare supplement in much the same way as Kleenex and tissue are synonymous.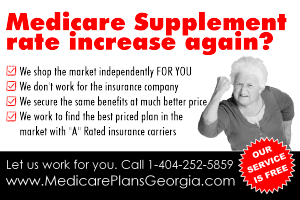 In 2006 Medigap plans were standardized and assigned letters. Each plan with the same letter was identical in every way ………. except the monthly premium.
Paying more for your Medicare supplement plan doesn't get you a better plan, it simply means you paid too much.
Currently the Medigap plan F is the most popular ……… and the most over-sold plan. It almost always fails to deliver on value. Occasionally a new carrier will come along and under-price their plan, intentionally or otherwise, to capture market share. Almost invariably with a year or two that plan is becoming prohibitively expensive.
Retiree's on plan F will use the Medicare annual enrollment period to shop for plans looking for a better value.
Georgia has 11 approved Medigap plan designs offered through over 30 different companies. The result is more than 170 different plans and rates to sort through.
A wise shopper will quickly discard 8 of the plans as either being over-priced for the design or lacking in value.
At Georgia Medicare Plans we encourage our clients to focus on 3 plans and eliminate carriers that have not offered Medigap plans for at least 5 years. This approach clears out the clutter by casting aside low value plans and narrows the field of carriers to only a handful.
Removing carriers that lack a proven track record in the Medigap supplement arena eliminates 10 carriers from consideration. Using data from CSG Actuarial, this includes companies including GPM, Heartland National, Gerber, Bankers Fidelity Assurance, as well as newcomers such as Omaha Insurance Company, Manhattan Life, Companion Life, and American Retirement Life.
Focusing on value, eliminating carriers that may be here today and gone tomorrow (like AFLAC), and observing renewal rate action we can help our clients find a plan that fits their needs and budget year in and year out.
Our service is valuable but you pay nothing
Bob Vineyard has almost 40 years in the health insurance industry. His expertise is available to you at no charge.
Georgia Medicare Plans has access to over 170 plans and rates you will not see on any website. Most agents will only show you a few plans from one or two carriers.
When you call a company or marketing organization (such as AARP) you will only be told about plans THEY offer. If you want to compare their plans to the competition you will have to call another company and listen to their sales pitch about THEIR products.
Once you have all that you may have fewer than a dozen plans from 4 or 5 carriers and then YOU have to decide on your own which plan is best for you.
We give you the opportunity to view as many plans as you want, take the time to explain the benefits of one plan over another, advise you on rate history, who is brand new and who has been around for a while.
We can do this in 15 minutes or less by phone and email.
Finding a plan that fits your needs and budget starts with a brief phone call so we can learn what is important to you.
For some it is the ability to choose their own doctor, and keep ones they have now. Some want full coverage while others are willing to participate in cost sharing in exchange for premium savings.
Even then, the cost sharing is minimal and significantly less than the thousands of dollars you may need to spend every year with an Advantage plan.
From there we can recommend plans that will work for you and let you decide.
During this years annual enrollment what do you want? You can spend weeks online, searching, and dealing with endless phone calls. You can have a parade of agents in your home or you can attend "information meetings".
We allow you to shop from the comfort of your home. Our site allows you to run your own quotes and compare plans side by side. When we receive your information an email will go out with the subject line "Medigap rates you won't see anywhere else".
In the body of the email, in bold print, are rates for our most popular plan based on your age and zip code.
We also follow up with a phone call to make sure you received the email and answer any questions.
No pressure. No in home visit. This is your opportunity to ask questions and get straight answers.
Don't walk away. Shop and compare now.