How do you find the BEST Medicare plan in Georgia? The one that is right for you AND your budget? GA Medicare expert Bob Vineyard explains.I did not say look for the lowest PREMIUM. I said BEST plan. Something that fits and is just right for you. Fits you like a glove . . .
Which is a better FIT for you? Original Medicare and a supplement plan, or an Advantage plan? Don't let ANYONE try and SELL you something you don't need, don't want and can't afford.
BEST Medicare Plans in Georgia
Where do you find the BEST GA Medicare plans?
Lucky you. We have a video that explains what you need to look for, what you need to avoid, and how to escape the pushy insurance agent.
Original Medicare and a supplement plan, or an Advantage plan? Don't let ANYONE try and SELL you something you don't need, don't want and can't afford.
How to Find the BEST Georgia Medicare Plan
GA Medicare expert Bob Vineyard reviews Georgia Medicare plans, news and options. Review our videos. Bob will help you find the RIGHT plan that fits YOUR needs and budget. The best Medicare plan in Georgia. Call (404)252.5859 or email.
There is nothing wrong with buying a Medicare plan online as long as you are prepared for a LOT of phone calls from agents wanting to sell you something you don't need, don't want and can't afford.
Turning 65?
If you are turning 65 and enrolling in Medicare, this may be your only chance to purchase a GA Medicare supplement plan. Full report with Medicare supplement rates for ALL Georgia Medigap carriers. Anthem GA Medigap rates include Silver Sneakers
You don't have to receive Social Security to enroll in Medicare insurance. CMS is the agency that oversees Medicare.
How to Enroll in Medicare?
You may sign up for Medicare 3 months before your 65th birthday, the month you turn 65, and 3 months following your 65th birthday. You may enroll online (highly recommended), by mail or by visiting a Social Security office.
Original Medicare Explained
Original Medicare has 4 parts. Your red, white and blue card is broadly accepted by doctors and hospitals alike. No networks!
Medicare Part A covers hospital inpatient charges and has a per admission deductible
Medicare Part B is for outpatient health care treatment. Doctor visits, labs, X-rays, MRI, CT scan (CAT scan), ambulance, ER, outpatient clinics, etc. Essentially any Medicare approved health care received outside the hospital setting. Treatment considered medically necessary under Medicare guidelines. Medicare Part B has a calendar year deductible. Once satisfied, Medicare pays 80% of the approved charge, you are responsible for the remaining 20%.
Most seniors worry about hospital stays, but your major expenses will more than likely fall under Medicare Part B outpatient expenses. Original Medicare stand alone has no cap on your out of pocket expenses.
You pay until you run out of money, get well or die.
Medicare Part C is now referred to as Medicare Advantage. More on that later.
Medicare Part D covers outpatient prescription drugs. Some Advantage plans have drug coverage built into the plan.
Medicare is Confusing
Seniors will almost always buy the wrong drug plan and will spend too much every year. Average spending on prescription medication is $1 for every $6 spent on health care. If you spend $60 per month on doctor bills you can expect to spend another $10 on medicine.
Lower your medication bill by only using your drug card when necessary. The right drug plan will save a lot on brand names but you will almost always pay MORE for generics.
Consider paying cash or using GoodRx instead for maximum savings. Also look for drug plans that have a deductible.
https://youtu.be/LaA9NnFeBXI
Do All Doctors Take Medicare Advantage Plans?
Did you know that some doctors and hospitals do not accept ANY Medicare Advantage plans? What happens if your claim is DENIED? Maybe you don't have the best Medicare plan after all.
Medigap and Advantage plans cover the same things, but what you pay out of pocket for your care, and where you receive your care, is very different.
Original Medicare does not have networks. You can use any doctor or hospital anywhere in the US. Another plus is the ABN form which is only used with Original Medicare.
Advantage plans are managed care plans. Some are PPO, some are HMO. In 2018 about half the plans are HMO with the balance being PPO. How are Medicare Advantage plans like a store credit card?

Are you turning 65? Will you continue to work and go on Medicare? Or will Medicare be your only health care insurance? Have you learned everything you need to know or do you still have questions? Did you take advice from friends on Medicare? Do you really understand how those Medicare Advantage plans work? Are all Medigap plans really the same?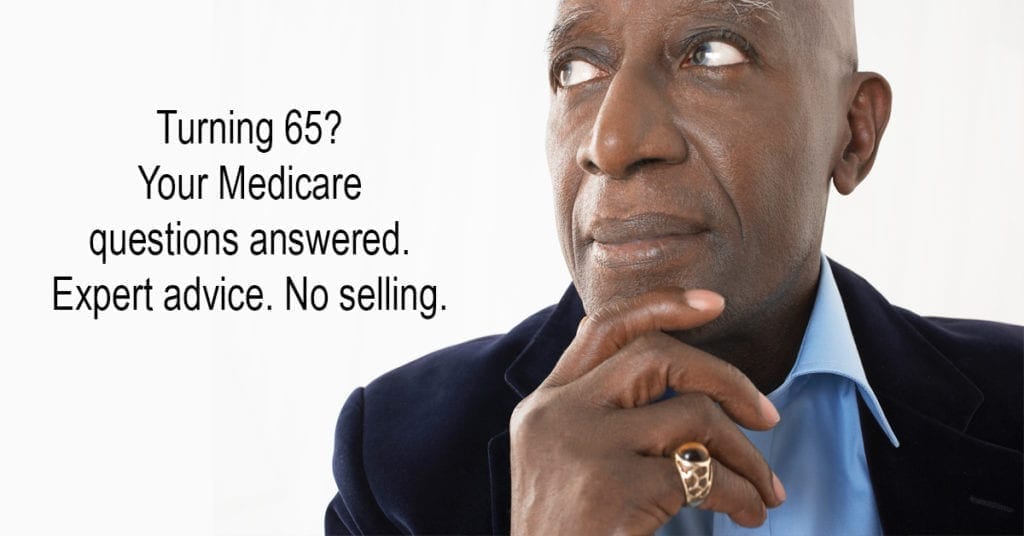 Even if you have already bought a plan, take 3 minutes to read this. It might just save you a lot of time, money and grief.
You are about to go on Medicare. Here are some things you need to know about your journey.
Turning 65 – You are not alone
Roughly 80% of retirees turning 65 have never bought health insurance before.
My 40 years in the health insurance business was not enough to prepare me for understanding the Medicare system. It took me about a month of research and talking to Medicare specialists before the light bulb turned on.
If it was that difficult for me I can imagine how confusing it is for you and everyone else.
Your friends that are on Medicare are probably still confused about what they have and how it works. I know this because I talk to people every day that were told something about Medicare that is 100% wrong and will prove very costly down the road.
Ask your friends who THEY talked to in making their decision. If they were pleased, ask for a recommendation. Then you talk with that person and decide if they are giving solid advice or simply pushing a product.
If they bought a $0 premium Advantage plan (along with a bunch of junk to fill the gaps), or Medigap plan F they will learn to regret that choice later down the road.
Things you probably don't know
When turning 65 you have ONLY ONE Initial Enrollment Period (IEP). During that time you can enroll in ANY PLAN from ANY CARRIER without answering health questions. Your initial enrollment for Medigap begins the month when you turn 65 AND go on Medicare Part B. It ends 6 months later.
During your IEP you can freely change Medigap plans within the same carrier or move from one carrier to another without penalty. Most people we talk to will end up paying a lot more for their coverage than was necessary. It is not too late to change. Don't let pride stop you from making a better financial decision. (More on this later)
You have 63 days from the time you turned 65 and enrolled in Medicare Part B to pick a Part D drug plan or Medicare Advantage plan. If you wait, your next opportunity will be during the Annual Enrollment Period (AEP) and you will pay a LIFETIME late enrollment penalty.
If you bought an Advantage plan and then learned that was the wrong decision you can still purchase a suitable Medigap during your IEP. This happens with some frequency so no need to feel embarrassed.
Many of the newer Advantage plans are "front end loaded" so you pay most of the costs of your care without the benefit of a copay. The networks are also more restrictive than you may have been accustomed to with traditional health insurance.
Medigap "gotcha's"
Medigap is simple, but not as simple as some might think. Sure, the plans are standardized. All plans with the same letter (plan F for example) are identical in every way except the price you pay.
But the simplicity stops there.
Financial ratings don't matter. "A" rated carriers like AFLAC and Mutual of Omaha have sucker punched retirees in the past.
Look for LONG TERM STABILITY in the Medicare supplement market. If a carrier doesn't have at least 5 years in the Medigap market operating under the SAME NAME, you probably want to cross them off your list.
Mutual of Omaha, United World, United of Omaha and Omaha Insurance Company have common parentage but the comparison stops there. The names are interchangeable and every 3 – 4 years an old carrier will be swapped for a newer one that has rates 20 – 30% below the "old" carrier. The new, lower rates are only for NEW APPLICANTS.
Aetna Health and Life, Manhattan, Omaha Insurance Company, Companion Life …….. all have "hot" rates in Georgia right now. But none of them have more than 3 years in the Medigap business an at least two have already had a 9% rate increase.
My choice
You don't have to do what I do but consider this. I have more experience in the health insurance business than anyone you have talked to so far. There are some paths I won't take because I know the pitfalls.
Maybe you should do the same.
I enrolled in Medicare in September, 2015.
I didn't buy a plan from any carrier with less than 5 years in the Medigap business.
I didn't buy plan F.
I didn't buy a Medicare Advantage plan. Even if I did, I certainly would NOT buy a hospital indemnity plan, a cancer plan, a heart attack plan, etc to fill the gaps. Any agent that pushes those policies is more interested making as much money as possible off you than they are in serving YOUR needs.
Ultimately, whatever choice you make should fit your needs and budget. I don't expect everyone to make the same decisions I make, nor would I pressure anyone to buy something just because I am doing it. But I do believe my clients deserve to know the choices I makd and why I made them.
If you want to know what I bought and why, just ask.
There are more than 170 different Medigap plans in Georgia. You probably looked at half a dozen or less.
There are only THREE Medicare supplement carriers with competitive rates that have 5 or more years in the Medigap business. If you didn't buy from them you probably are, or will eventually be, paying too much.
You are turning 65 and need to make a decision before going on Medicare. Better to review your decision now rather than later.
Let me know how I can help.
#Turning65 #GeorgiaMedicarePlans #GeorgiaMedicareSupplementRates
Can you afford Medicare supplement insurance? Can you afford to NOT have it? How much does it cost? (Less than you think). Which plan is best? How do I find the lowest rate? Should I buy Medigap plan F like all my friends or something different?
Shop and compare GA Medigap plans. Instant rate quote. No hassle. Your information is never sold.
Medicare open enrollment is just around the corner. Others are just now turning 65 and will soon be navigating the Medicare maze.
You can get rates anywhere, but what most people want is information and solid advice without the hype and pressure. You get the benefit of my 40 years experience at no extra cost.
Post summary.
How much does Medicare pay for serious illness?
Is Medicare Advantage, with the lower premiums, better?
$0 premium or $0 copay and $0 deductible?
Finding the plan with the best rates and overall value
Why avoid Medigap plan F?
Can you afford Medicare supplement insurance?
Here are the facts. You decide.
Original Medicare covers about 80% of your medical costs and none of your prescription drug costs. Your remaining 20% share (after Medicare pays their portion) can run into the hundreds in an average year and thousands in a bad year. The 20% you pay is not capped. Your treatment continues until you run out of money.
Many Medicare Advantage plans have $0 premiums. Advantage plans have moving parts, doctor and hospital networks (most are HMO's), deductibles, coinsurance and copay's. The plan you buy this year probably won't be offered next year and you will have to switch plans …… and possibly doctors as well.
Next year you will start this process over again, and then again the year after that. At least the Advantage plans have a cap on your out of pocket costs. Most of them limit your share to $6700 for the year. Then next year you start all over again.
If you are turning 65 and live in Georgia, you can buy our most popular Medicare supplement insurance plan for around $100 per month. About $3 per day.
The one I bought is $104 per month. Beyond the monthly premium my out of pocket cost is limited to the Part B deductible ($147 in 2015) and after that a $20 doctor visit copay.
If I had to go to the hospital my out of pocket cost would be $0.
Sure, I would rather have a $0 premium plan. Who wouldn't? But I would also rather have to come up with $147 and an occasional $20 than dig into my savings to fork over $6700.
But that is just me.
You may feel differently.
Which Medicare supplement plan is best?
That's simple.
The best plan is the one that fits your needs and budget.
If you are in good health, and don't care which doctor you use, those $0 premium Advantage plans might be just the ticket. But when your health changes you won't like them very much. And by then you won't qualify for a Medicare supplement plan.
If you are turning 65, this may be your one and only chance to buy a Medicare supplement plan.
So is the Medigap plan a better option?
If you can afford $100 per month and find it easier to budget for a fixed premium vs. several hundred or thousand for out of pocket medical expenses, then the Medicare supplement might be what the doctor ordered.
Choose wisely.
Whatever you decide today might have to last you the rest of your life.
How do I find the lowest Medigap rate?
That part is easy. Just ask.
Sure, you can go online and shop. Plenty of places to compare rates, including my site. But you will only see a dozen or so plans, even on my site.
And some of the rate comparison sites are just a come on. They take your information and sell it to a bunch of agents who will call and pester you until you stop answering the phone or buy.
That won't happen here.
I never sell your information. You will get one call from me and that's it. After that it is up to you if you want more information or not.
Including the lowest rates in your area.
There are over 170 Medigap plans in Georgia but you will never see more than a dozen or so. The rest are available offline. Heck one of my competitors only shows you plan F from 4 different carriers. What good is that?
Most people want more than just a rate. They want information. They want to know that the decision they make will be the right one, just in case they have to keep their plan for the rest of their life.
But go ahead and shop now. It won't hurt and your phone won't ring off the hook. Because I will only call you once.
When we talk I will ask a few questions and give you a straight answer to your questions. If you just want the lowest rate I will give you that by phone and follow up with an email.
But if you want to really learn how Medicare works, I will give you all the time you need to feel comfortable with whatever decision you make.
It really is that simple.
Should I buy Medicare supplement plan F?
Probably not.
Your friends that bought plan F didn't talk to me. If they talked to an agent at all they probably don't even know plans other than F existed.
And the probably paid too much for that plan.
If they bought from AARP (United Healthcare), Blue Cross or Mutual of Omaha I can almost guarantee they overpaid.
You see, all the Medigap plans with the same letter are identical in every way …….. except the price.
So it doesn't matter if they pay United Healthcare $166 per month, or Blue Cross $191 monthly or Colonial Penn $277 per month, they get the same coverage.
When you pay more you don't get more, you simply paid too much.
That's me on the right. My daughter took that picture at the Chop House. We went to a Braves game a few years ago and she wanted a picture.
Current plan F rates are expected to increase at least $20 per month in 2016, and probably even more.
By 2020 when plan F is discontinued anyone with plan F can keep it but the premiums will rise at a faster clip than now.
Which sounds better to you?
Buying Medicare supplement plan F that is being yanked off the market in a few years or saving $800 per year (and more) by enrolling in a plan you can keep as long as you live?
Shop and compare now. When I call, give me 10 minutes to educate you and then decide if my advice is worthwhile or not.
#MedicareSupplementInsurance #MedicareSupplementPlanF #MedicareOpenEnrollment #MedigapRates