Are you turning 65? Do you know ALL your Medicare options? When and how should I enroll in Medicare? Do I need Medicare if I am still covered by an employers group health insurance plan? Is there a penalty if I don't sign up for Medicare? Can I get Medicare if I don't enroll in Social Security? Can I change my plan at any time? When can I sign up for Part D? What are the most common complaints about Medicare? What are the best Medicare supplement plans in Georgia? Which carriers usually have the highest rate increases?
How much easier would it be if you could see ALL Georgia Medicare rates in one report? Know your Medicare options before buying a plan.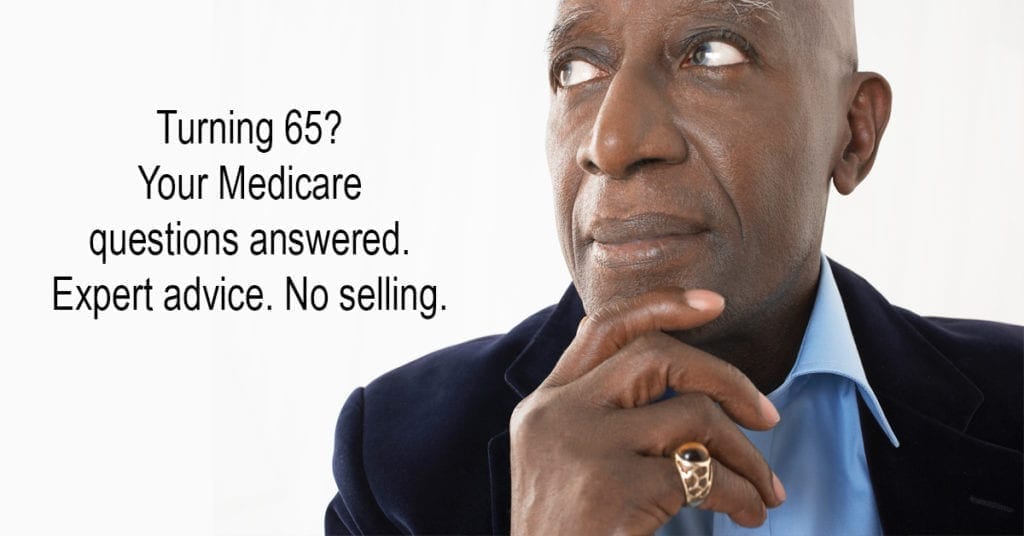 Turning 65 – What are my Medicare options?
About 8,000 of us turn age 65 every day. Every one will face decisions about Medicare options. Am I automatically enrolled in Medicare? Do I need to sign up? How do I enroll in Medicare A and B? Do I need both parts? Is there a penalty for delaying my Medicare enrollment?
Most of your answers can be found in the Medicare and You booklet. Other answers will come from Choosing a Medigap Policy. You can also go online to Medicare.gov or call 1-800-MEDICARE 24 hours a day, 7 days a week (except federal holidays).
But who wants to spend hours reading government documents, searching a massive website or waiting on hold for the next representative?
Good news! We know you have better things to do than learn about your Medicare options. Don't waste time doing the research. We have done that for you.
At Georgia Medicare Plans you can find answers, get GA Medigap quotes, view rates and benefits, compare plans side by side and much more.
You can also talk to us by phone or email. Straight forward answers from someone who not only has more than 40 years in the health insurance business, but like you, is also enrolled in Medicare.
How Can I Sign Up For Medicare?
Enrolling in Medicare is simple and easy. There are several ways to start your Medicare journey.
Sign up online
Enroll in Medicare at a Social Security office
Call Social Security @ 1-800-772-1213, Monday through Friday, 7 AM to 7 PM
If you worked for a railroad, call the RRB at 1-877-772-5772
Many will find the online application to be simple and painless. If you are reading this then you probably have a computer. It took me about 15 minutes to enroll in Medicare when I turned 65.
You can apply by mail but I would advise against that approach. Too many potential problems. If you already have Part A and are applying for Medicare Part B, the only way it can be done is with paper applications. If at all possible, visit a local SS office and apply in person.
Pick the one that works for you.
When Do I Enroll in Medicare?
You should sign up for Medicare three months before reaching age 65. Enroll in Medicare even if you are not ready to start receiving Social Security retirement benefits. You can opt out of receiving Social Security once you are in the online application. Then you can apply online for retirement benefits later.
Medicare Part A is offered to most people at no charge. You or your spouse paid into Medicare by way of payroll taxes so now they tell you there is no premium.
Isn't that special?
You may qualify for premium-free Part A if you meet one of the following.
You paid Medicare taxes for at least 40 quarters
Received SSDI for 24 months
You have ESRD
Qualify as an eligible spouse if they meet the criteria
Even though you paid Medicare taxes for several years Part B is not premium-free. In 2017 your standard Part B premium is $134 per month. Higher income people may pay more under IRMAA tax rules.
You should enroll in Medicare Part A even if you are not ready to enroll in Part B. Coverage can start as early as the first day of the month you turn 65.
What is Medicare Part B and Why Do I Need It?
The short answer is, you may not need to enroll in Part B when you sign up for Part A. But be careful. Delaying Part B without following the Medicare rules could result in a late enrollment penalty. If you may also be forced to enroll in B during the General Enrollment Period.
Those covered by an employer group health insurance plan you may not need to sign up for Medicare Part B. You may be able to keep your group plan until you or your spouse retire. Special forms and rules apply if you delay Part B past your 65th birthday. Opting for COBRA after 65 can create a delay in the start of Part B. You could also be subject to a late enrollment penalty. Watch out for the COBRA trap.
Your Medicare Part B deductible for calendar year 2017 is $183. When the deductible is satisfied, Medicare covers 80% of approved charges. You are responsible for the remaining 20% balance.
Unlike other health insurance you have had in the past, there is no out of pocket cap for your Part B expenses. You pay until you are well, you die or when you run out of money.
Medicare supplement plans (Medigap) pay some or all of your Medicare Part B charges.
You may be concerned about large hospital inpatient bills but over half of all medical bills are charged as an outpatient. Items like doctor visits, labs, X-ray's, MRI, CT scan, ambulance, ER and more fall under Part B.
Chemotherapy often runs $2500 or more per treatment. Renal dialysis is $3,000 per session. Insulin for an infusion pump is $500 per bottle. Unless you have a Medigap policy you could pay hundreds of dollars each time you incur these charges.
You may never need expensive cancer treatment, kidney dialysis or insulin. But if you do, how will you pay for it?
Learn your Medicare options BEFORE making a final decision.
Medicare Options Part D
The most confusing choices for most people is how to pick a Part D drug plan. In some parts of Georgia there may be more than 30 plans available.
Which one is right for you?
Prescription drug plans (PDP) have formulary's, preferred pharmacy's, copay's, doughnut holes, catastrophic coverage and more. More often than not seniors will pick a plan with the lowest premium. Don't ever buy on premium alone unless you are not taking any medication.
Often the plan with the lowest monthly premium has the highest drug costs. Pick the wrong plan and you can't change until the next open enrollment period.
At Georgia Medicare Plans you will be able to learn all of your Medicare options, ask questions and get detailed answers. We take the confusion out of Part D.
Georgia Medicare Supplement Choices
Bob Vineyard is not just an independent broker for Medicare supplement plans, he is also enrolled in Medicare. Which plan and carrier did I pick?
This is not about me, it's about you. For many people, the most important decision they will make is choosing the right Medigap plan that fits their needs and budget.
Best GA Medigap Plans with Lowest Rates
If you are turning 65 and enrolling in Medicare, you want the same thing everyone else does. The best Medicare supplement plan with the lowest price.
Medigap plans are designed by Medicare to be identical in every way. Except price. All F plans are exactly the same. This is true for G, N and the other 7 letters. Every carrier pays their portion of Medicare approved claims, usually in 3 to 5 business days.
Any doctor that participates in Medicare will also accept your supplement plan, regardless of the issuing carrier.
If you are looking for the lowest Medicare supplement rates, that is easy too. As long as you know where to look. Most people don't.
Seniors who are online shoppers will typically visit half a dozen sites or more. They will fill out a request form and immediately their phone rings off the hook. Once burned they will still complete forms but enter bogus contact information.
At best they may see 15 or 20 plans and rates. That's not enough. After seeing the same carriers on multiple sites they give up, believing they have seen it all.
Truth is there are over 170 different Medicare supplement plans available in Georgia. There is only one way to gain that information. Ask us for a detailed report like this one. We are happy to share. No sales pitch. No obligation to buy.
Don't want plan F? No problem. Tell me which plan or plans you want and you can have those reports too. I also run these reports for my clients on each renewal.
But there is a catch.
This is only for clients. Everyone else will have to shop every year and only see the same 15 to 20 plans.
Clients of Georgia Medicare Plans can call or email any time they have questions. Any time. And they always know if their renewal is fair or not.
So far this year 28 clients have been relocated to another Medigap plan and are saving anywhere from $18 to $53 per month vs. their renewal.
You won't get that when you buy direct from AARP, Blue Cross or through any other agent. If you have talked with other agents, not a single one has offered you a Medigap report like the one linked to above.
You can buy your plan anywhere, but you can only get your Medicare options report here.
Take care.
Bob Vineyard, CLU
#GeorgiaMedicarePlans #GAMedigapRates #MedicareSupplementRates #Turning65 #MedicarePartD #EnrollMedicare