When do I enroll in Medicare? How do I sign up for Medicare? At what age can I begin Medicare benefits?
These are all things Georgia citizens that will turn age 65 need to know.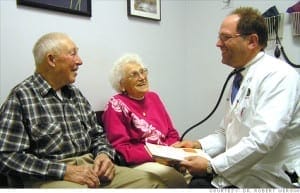 Enroll in Medicare Part A and Part B
Most people will choose to sign up for Medicare Part A on their 65th birthday. If you want to enroll in Medicare Part B you will have to elect that coverage by signing up online or calling Medicare.
If you are receiving Social Security you will be automatically enrolled 3 months before your 65th birthday
You can sign up at the SSA/Medicare site, or call 1-800-MEDICARE.
When you sign up for Medicare Part B only cover a portion of your doctor and outpatient expenses will be paid by Medicare. Medicare Part B has an annual deductible you must satisfy, and then you pay 20% of expenses approved by Medicare but not paid by Medicare.
For some, this can amount to a lot of out of pocket expenses.
Buy a Medigap Plan
To offset your Medicare Part A and Part B expenses, most folks in Georgia will purchase a Medigap plan. You must have Medicare A and B to enroll in a Medicare supplement plan.
The popular Medigap plan F is what most people are sold and never told about lower premium options that deliver better value. Probably 90% of my clients purchase Medicare supplement plan G once they realize how much money they are throwing away on Medigap plan F.
Medigap plan G. Seniors in Georgia on a fixed income will save money when they choose Medigap plan G. Medigap plan G has all the benefits of Medicare supplement plan F except for one thing.
You avoid the Plan F high premium overcharge
Understand your Medigap options by reviewing the Medicare guide to CHOOSING A MEDIGAP POLICY.
Compare Medigap rates and plans online. Click, quote, review, compare. In addition to your online quote, a personalized proposal will be sent direct to you.
Enroll in Medicare Part B when you are first eligible to avoid any LIFETIME late enrollment penalties.
Remember, coming off of Cobra is NOT the same as coming off of a group where you are covered as an Active Employee. Beneficiaries have 8 months from the time they are covered as an Active Employee to apply for Part B. If they miss that window, even if they are covered by Cobra, they will have to enroll in Part B during the General Enrollment Period, which means applying January through March for a July effective
Avoid the COBRA Trap!
Even though COBRA has been around for over a quarter of a century, most people do not understand their COBRA rights. They believe COBRA is only available to family members if the former employee ALSO elects COBRA.
You can avoid the penalty and delay by enrolling in Medicare Part A and B when you turn 65.
CMS rules grant you an 8 month window after leaving employer group health insurance if you need to enroll in Medicare Part B. If you are 65 or older you have 8 months to enroll in Medicare Part B without penalty or delay.
But if you take COBRA the 8 month window no longer applies. Enrolling in COBRA means you could wait a year or longer before your Medicare Part B is effective. And you will pay a LIFETIME late enrollment penalty.
Sign up for Medicare PDP
You should also enroll in Medicare Part D when you enroll in Medicare Part B. If you enroll in Medicare Part D late you will pay a lifetime penalty of 1% per month for every month you could have enrolled in Medicare Part D but did not enroll.
Ask us how to enroll in Medicare or how to find low cost Medigap rates.
#EnrollInMedicareAtAge65
#Age65SignUpForMedicare