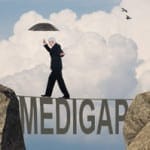 BCBSGA Medicare supplement rates increased 8% in 2013.  We find that most seniors are paying too much for their Medigap plan. Almost everyone has Medicare plan F which is always the most expensive plan offered.
Compare your Blue Cross Medigap rates to Humana, Mutual of Omaha and others
Stop throwing money away! How much can you save? Many of our clients will save $30 – $60 per month by making a switch. We showed one couple how to save over $1700 per year.
Compare Blue Cross Medicare supplement rates using this link

.

All plans with the same letter (F, G, N) are identical EXCEPT for price

Paying a higher premium does not get you a better policy
Any doctor that accepts Medicare will accept your Medicare supplement plan
Higher premiums charged by "big name Medigap companies" is throwing money away
Who Should Consider BCBSGA Medicare Plans?
BCBSGA Medicare supplement rates  are competitive for Hi F plans at most ages and zip codes, and Blue Cross writes more Medigap plans than any other carrier in the state.
Well known and widely accepted, with Blue Cross you will never have to file a claim form. Your doctor, hospital or clinic will file claims for you with Medicare.
Once Medicare adjudicates and approves your claim, they will send it on to Blue Cross for payment of their portion of the claim.
Blue Cross is the best known Medigap carrier in the state, but did you know this?
Why Overpay When You Don't Have To?
ALL Medicare supplement carriers pay claims accurately and on a timely basis . . . usually within 10 days of receiving the claim from Medicare.
It doesn't matter if you have Blue Cross, AARP (United Healthcare), USAA, Mutual of Omaha, Gerber, Humana or New Era. Everyone of them will pay your claims promptly and without question.
Something else you may not know.
All Medigap plans with the same letter are identical.
If you have Blue Cross Medicare supplement plan F  it is identical in every way to Medigap plan F from Mutual of Omaha. The only difference is the price you pay.
When you pay more you don't get more, you simply paid too much!
Georgia Medicare Plans is proud to offer Blue Cross to our Medicare supplement clients, but we also have other fine Medigap carriers. If we can find a way to help you save money by switching from BCBSGA Medicare supplement rates to a lower premium plan we will make that suggestion. Sometimes you can benefit by switching plans and carriers.
Our responsibility is to you, our client, not to the carrier. Ask for a no obligation comparative Medigap analysis. Discover how much you can save.
[iframe src="http://gamedigapquotes.com/"]
#GAMedigapQuotes #BCBSGAMedicareSupplement